Songs for a New World Sheet Music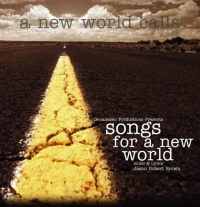 Songs for a New World is a work of musical theater written and composed by Jason Robert Brown. Its original off-Broadway production ran for 28 performances at the WPA Theater in New York City in 1995. The show sits on the boundary between musical and song cycle, but it is neither; it is an abstract musical, a series of songs all connected by theme rather than narrative. The show employs four performers who do not literally play the same characters throughout the show but who do have consistently developing character arcs nonetheless. It is far more than a revue or song cycle but it's not a standard narrative book musical. Composer Jason Robert Brown has said of his show, "It's about one moment. It's about hitting the wall and having to make a choice, or take a stand, or turn around and go back."
The original cast consisted of Brooks Ashmanskas, Andrea Burns, Jessica Molaskey, and Billy Porter (Porter's part was sung by Ty Taylor on the original cast recording). Daisy Prince, daughter of Broadway director Harold Prince directed. The original band consisted of Jason Robert Brown on piano, Randy Landau on bass, Tom Partington on drums, Joe Reina on keyboards, and Warren Smith & Rob McEwan on percussion. Songs for a New World was Jason Robert Brown's first produced show.
The piano features heavily throughout the show's music and because of its small cast and orchestra, Songs for a New World has become a favorite small show for colleges and local theatres, despite its vocally demanding score. The music of Songs for a New World is heavily influenced by a broad range of musical genres, including pop, gospel, jazz and classical music. Many of the songs combine elements of two or more of these genres. Some of the songs reference well-known historical and fictional characters, including Martin Luther King Jr., Mrs. Santa Claus, and Betsy Ross.
Songs for a New World - On the Deck of a spanish ship Piano Sheet Music
Advertisement
Advertisement

Please right click on the download button and select "Save Target As" or "Save Link As" to download



You can share this sheet on your Twitter or Facebook account to let your friends know too!


(2.6MB)